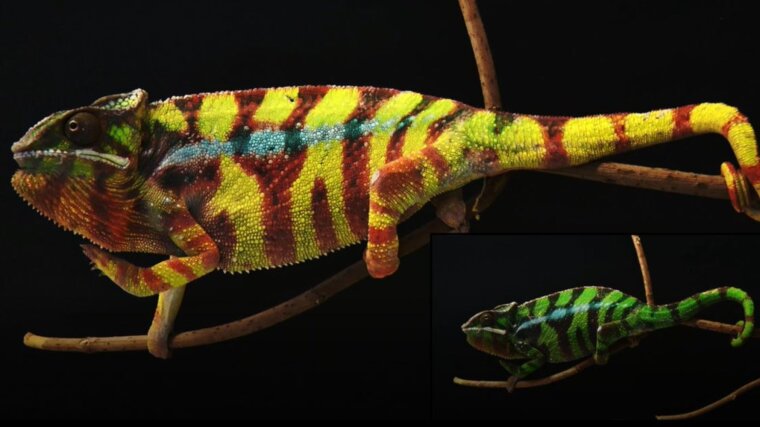 Bioinspired Materials
Nature - our best teacher!
Topographic surface modification by means of defined material ablation using ultrashort pulse lasers (laser-induced periodic surface structures (LIPSS)) also allows the optical surface properties to be changed. A prominent example of this are structural colors, for the generation of which nature provides numerous solutions as a model. Taking LIPSS as an example, the nanoscale periodic surface relief leads to diffractive properties and thus to specific structural colors that vary depending on the angle of illumination and observation. One focus of the research group is the reversible change of these structural colors by an elastic deformation of the substrate material, which can be used for sensors to detect material deformation and thus for early detection of material failure.
Reversible change of LIPPS-based structural colors during elastic deformation.

Video: University of Jena
Ice templating
Cellulose is the world´s most abundant biopolymer. Langmuir-Blodgett monolayers, fibres and knits made of cellulose were used to prepare scaffolds and drug delivery systems for the regeneration of bone and cartilage. The coagulation and co-extrusion of cellulose/hydroxy apatite solutions were used to prepare composite tapes and fibres, respectively.
Photocatalytically active hybrids consisting of anatase nano­particles (NP) and bacterial nanocellulose were prepared by dispersing the NP into the Hestrin-Schramm culture medium. In contact with air the bacteria produce cellulose from glucose and simultaneously integrate the NP homogeneously in the BNC hydrogel. The antibacterial activity of such kind of materials was demonstrated by methanol conversion (MC) under UV irradiation. Thus, the in situ integration of NPs into BNC represents an attractive possibility to extend its use to novel innovative fields of application.
Sintered TCP scaffolds were impregnated with the biodegradable biopolymer PCL. Only a small amount of polymer was used to solely infiltrate the micro pores and to coat the ceramic lamellae with a thin polymer film. The infiltrated samples show a damage tolerant non-catastrophic failure mechanism which can be explained by the formation of cold drawn PCL fibers bridging micro- and macrocracks. Moreover, the compressive and flexural strength of the impregnated samples increases by approximately 100%.